Choose hemp moisturizer to hydrate + nourish + protect. 
Hemp seed oil is the ideal moisturizer - full of omegas 3, 6 and 9 and absorbs for the ultimate glow. Hemp seed extract is clinically proven to heal dry skin and improve skin texture. 
Customer Testimonials
Hear from others who have joined the Skin High and switched to 100% natural, clean and green empyri.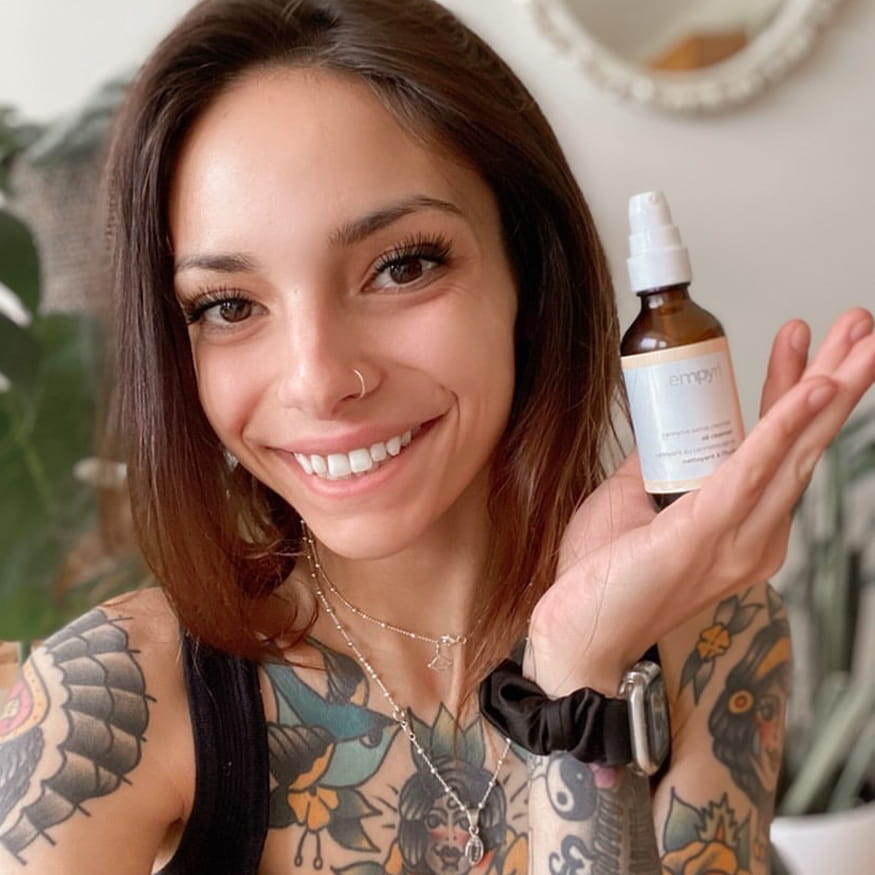 The only things I've been using on my face other than a face mask once a month, so I can truly say the results are all from empyri's cleanser!


Korrin
@you.me.alchemy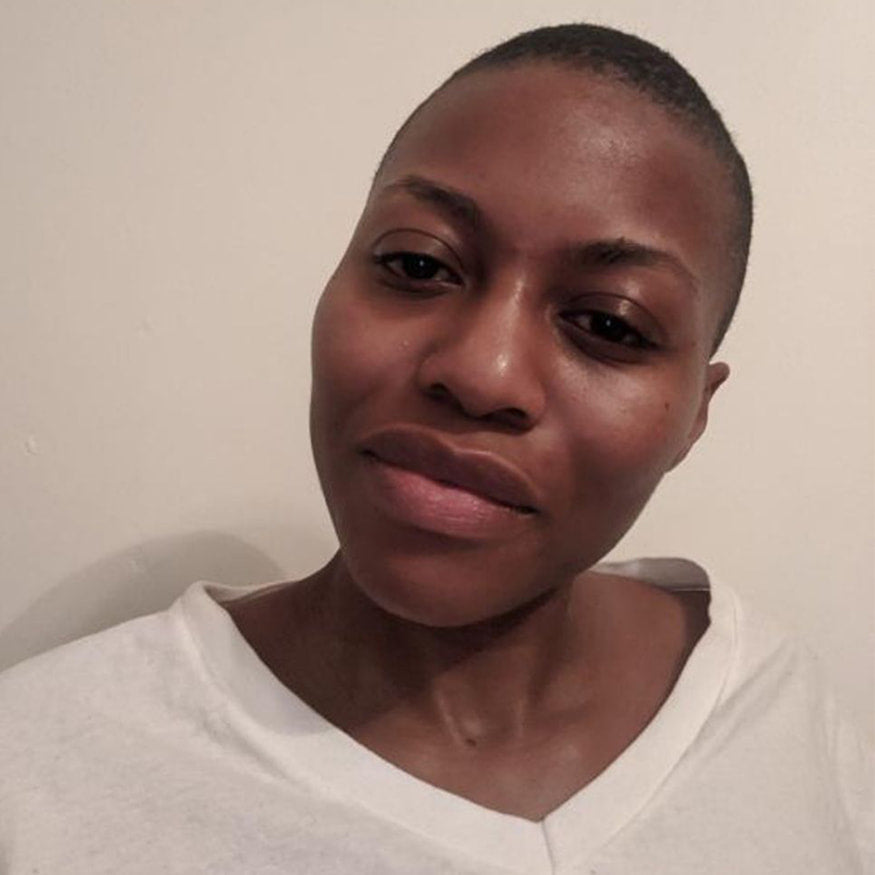 The best foundation you can wear is glowing healthy skin! empyri's 3-step skincare ritual offers that and more!


Shanice
@shaniceunearthed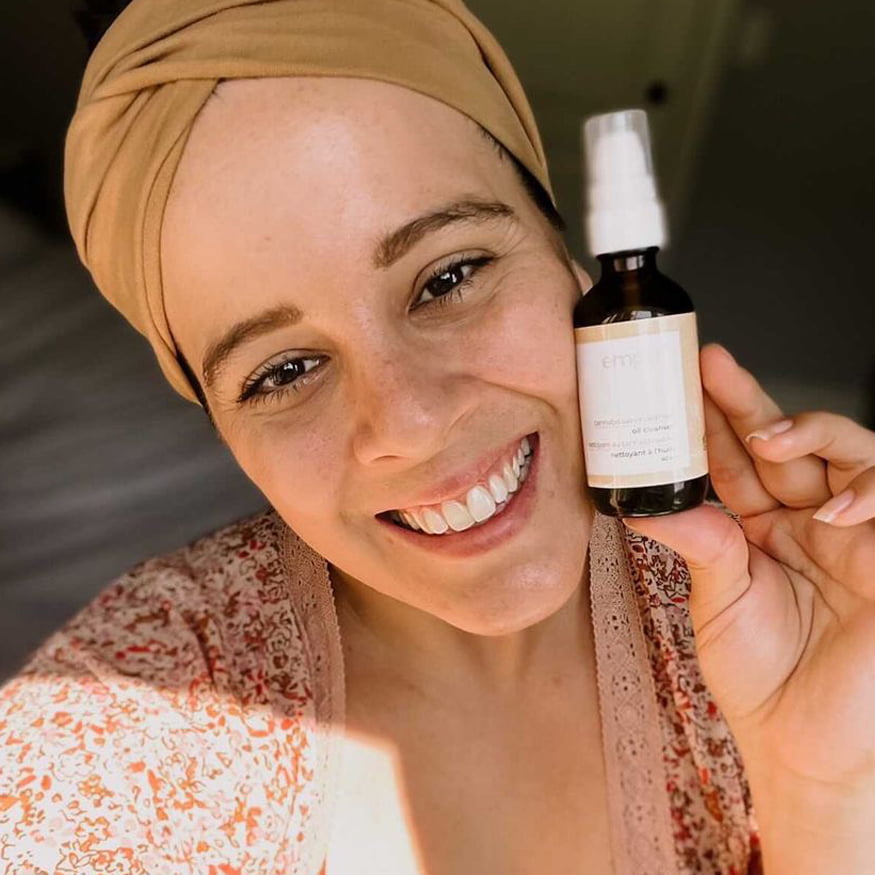 I'm in love with the empyri Oil Cleanser - it's a dream. It easily removes makeup, thoroughly cleanses and leaves your face feeling moisturized (not dried out). I have used it every day for almost three months and I recommend it to everyone!


Natalie
@mindyourown.life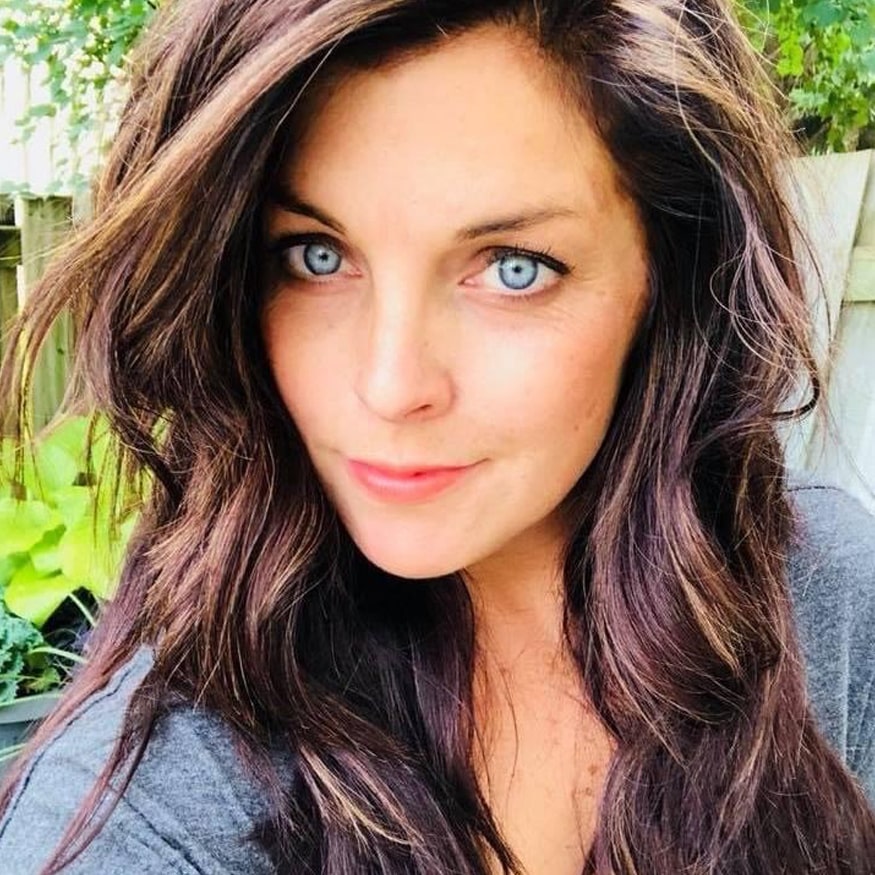 I love the simplicity of empyri's 3-step ritual. After a long day of mountain biking, the oil cleanser is amazing at removing sweat & sunscreen (and chain grease!), leaving my face feeling clean and moisturized. With just these 3 products, I know my skin is getting everything it needs – it's balanced, bright and smooth.


Jade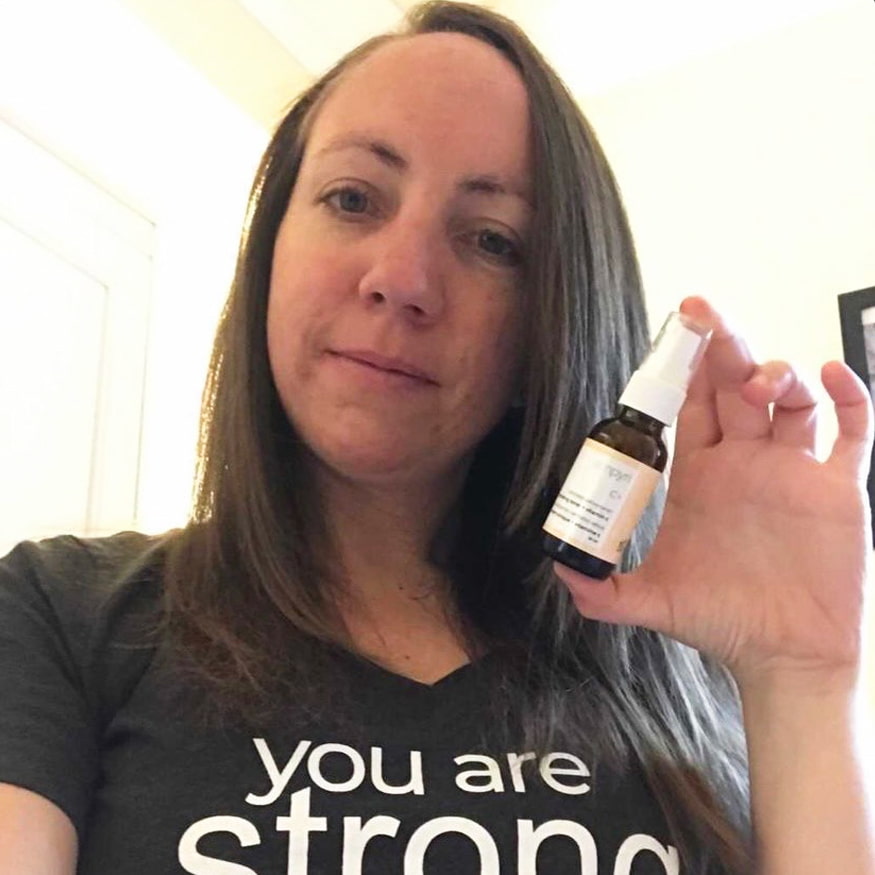 The empyri products are the closest to nature I have ever found. They are gentle, effective and just make my skin radiate. They have become part of my essential self-care routine! The cleanser leaves the skin so soft and the toner sooooo refreshed. Could not live without empyri anymore.


Jennifer
@jennifer.jane.young
FREQUENTLY ASKED QUESTIONS
Why choose empyri's moisturizers?

Here's 3 reasons why you should choose empryi's moisturizers:

CLEAN: empryi hemp moisturizers are free from harmful chemicals. These include ingredients flagged on The Dirty Dozen list with potential risks to human and environmental health. You can read more about empyri's Clean Beauty Ethos

here

.

GREEN: empyri hemp moisturizers are vegan, cruelty free and manufactured with a low carbon footprint in Canadian facilities. We use use sustainably sourced ingredients and 100% recyclable packaging.

CANNABIS INFUSED: empryi hemp moisturizers take your skincare to a higher level using hemp! Cannabis sativa seed oil, seed extract and roots are full of nourishment for your skin with both traditional knowledge and evidence-based clinical science to back it up!

How do I use the various moisturizers?

Hemp serum

This product must be applied to damp, not dry skin. It's best used in empyri's

3-step ritual

. After cleansing and toning, apply 1-2 pumps to finger tips and gently spread over face. Use an additional 1-2 pumps for neck, chest and hands. You can also add a few pumps of serum to your favourite body moisturizer and apply to your entire body daily for an extra boost of hydration.

Hemp face cream

After cleansing & toning, and before

sunscreen

, apply 1-2 pumps of hemp cream to face and neck. Follow with empyri hemp eye cream and your favourite broad spectrum SPF. For extra dry skin, mix 1-2 pumps of hemp cream with 1-2 pumps of hemp serum in your fingertips before applying. This technique is a total hydrating game changer!

Hemp eye cream

In the morning, apply hemp eye cream after moisturizer but before applying sunscreen. Eye cream is your final step in the evening. Gently pat 1 pump of eye cream around your under eye area and up underneath your eyebrow bone using your ring fingers.

Hemp neck cream

Apply 1-2 pumps in an upward direction to clean, dry skin on neck, chest and jawline both morning and night.

Should I use them everyday?

Use your favourite empyri hemp moisturizer 1-2x daily. Or better yet, try them all!

The benefits of moisturizing

Hydrated skin is healthy skin! The benefits of moisturizing your skin include:

Protecting skin from environmental damages like dry wind, pollution, etc.
Slow the aging processes by supplementing moisture where you need it
Reduce the look of fine lines and wrinkles by keeping skin plump
Nourish your skin barrier which is your body's natural shield against moisture loss
Repair skin from free radical damage like UV radiation which speeds up skin aging

What's the difference between the cream and serum moisturizers?

The key difference between the cream and serum moisturizers is the texture. The serum is oil-based and waterless, a rich but lightweight formula that soaks in deeply to damp skin. The cream resembles typical lotions in its texture. Like the serum, it has a light texture but provides dramatic skin hydration and protection from environmental stressors too.

Which to choose for your skin type

Everyone...and we mean absolutely everyone needs to moisturize! Our hemp eye cream is suitable for all skin types. When it comes to choosing a moisturizer for your whole face however, your skin type will play a role.

Oily skin
For oily skin, choose empyri's hemp face cream. It's super lightweight formula will not give you that awful greasy feeling that heavy lotions often do. We use pure hemp seed oil to moisturize and help regulate the skin's oil production. Plus it smells great... lavender and orange blossom, yes please!
Folks with oily complexions avoid oil-based products. It can seem counter-productive. But our hemp serum is suitable for oily skin, because it features hemp seed oil to regulate the skin's oil production and it's formulated for optimal absorption. This means it won't sit on top of your skin adding to your shine. Within a few seconds it starts to soak in, hydrating deeply where your skin needs moisture the most.

Dry skin
For oily skin, choose empyri hemp face cream. It's super lightweight formula will not give you that awful greasy feeling that heavy lotions often do. We use pure hemp seed oil to moisturize and help regulate the skin's oil production. Plus it smells great... lavender and orange blossom, yes please!

Sensitive skin
Both of empyri's hemp moisturizer face products are formulated with a sensitive skin type in mind. Our hemp serum contains hemp roots to soothe inflammation and our hemp cream features chamomile flower extract as a gentle antioxidant. Both use hemp seed oil, which is great for sensitive types because it's similar to our skin's oil. It's like introducing someone to a friend that's already familiar!

Normal skin
For normal skin, we're big fans of the skin care wardrobe. That means you have on hand all of your skin care essentials (and the extras too!) so that each day you can choose to give your skin what it needs. This is a luxury that folks tackling stubborn skin conditions don't have because day in and day out they are trying to treat, heal or manage their skin type.
If you have normal skin, choose hemp serum when your skin feels a little thirsty or when you have a few extra minutes of self-care time to let it soak in deeply. Choose our hemp cream when you want to create a smooth, plump base for makeup application, or in warm weather when you want something super lightweight.



Can I use it

On my scalp

You can use empyri's hemp serum on your scalp. The omega-3 and omega-6 fatty acids in hemp seed oil are very nourishing to skin - including the skin on the top of your head! And you can use our serum on your hair too. We always say "find a place for every last drop" so many customers rub leftover serum on their fingers through their hair strands. Try this at-home hair treatment: use empyri

hemp bar soap

for a gentle hair wash. While hair is still damp, apply 3-4 pumps of hemp serum from root to tip.

On my tattoo

After the first day (when you should be using a petrolatum-based product), use empyri's oil-based serum on your tattoo to keep it moisturized and prevent scabbing. For cleansing, our

hemp face wash

is a good choice too since its oil-based and won't irritate your skin barrier like foams.

For eczema

All of empyri's hemp moisturizers are formulated for sensitive skin, including eczema. Eczema's #1 enemy is dry skin; keeping skin hydrated is critical. Hemp seed oil is very bio-compatible with the skin, and it's fatty acids create an effective moisturizer. Always test new products on a small patch of skin on your arm before applying to your entire face.. Avoid contact with eczema flare ups that are cracked or bleeding as essential oils may irritate the area. If redness or burning occur, stop using the product and cleanse the area with a cool, damp cloth.

For pain relief

Empyri hemp moisturizer products are NOT for pain relief. Our hemp derived products are not to be confused with CBD topicals/creams. CBD (cannabidiol) is a chemical compound in the cannabis sativa plant known for therapeutic benefits including pain relief, relaxation and sleep promotion.

How does the hemp add value?

Hemp adds value to empyri moisturizers in 3 ways, with 3 different hemp-derived ingredients! Let's look at each one separately:

Hemp ROOTS add anti-inflammatory properties to our hemp serum. Since inflammation is the root cause of many skin conditions (acne, eczema, redness) anti-inflammatory ingredients can benefit all skin types.
Hemp SEED OIL adds omega fatty acids to all of our moisturizers. It's an effective moisturizer because its very similar to our skin's oil properties, helping it soak in deeply to where our skin needs the most hydration help. It also regulates the skin's oil production, which helps oily and acne prone skin.
Hemp SEED EXTRACT is in our hemp face and eye creams. It's clinically proven to heal dry skin and balances like hemp seed oil. But it also has anti aging properties, reducing the width and depth of wrinkles.

What is hyaluronic acid?

Hyaluronic acid (HA) is naturally occurring throughout the body. It's a glycosaminoglycan, which is a group of carbohydrates or sugars. HA is mainly in your connective tissue, and it's what gives structure to your skin. You can thank hyaluronic acid for making your skin hydrated and plump!

Your body's natural HA production slows overtime, but you can supplement using our hemp moisturizers with hyaluronic acid. We use sodium hyaluronate which is a salt of HA. It's got a lower molecular weight, meaning smaller particles, easier to penetrate into the skin to work its magic.

What are triple action polypeptides?

OK this is a big one, so let's break it down. Peptides are a string of amino acids (poly means many, so lots of strings together to form a bigger chain). Amino acids are the building blocks of proteins that have critical functions in our bodies. We call the polypeptides in our hemp eye cream "triple action" because they are clinically proven to tackle the 3 most common eye concerns. Matrixl ® smooths wrinkles, Haloxyl ® brightens dark circles and Eyeliss ® reduces puffiness. They are all trademarks of Sederma, Inc.